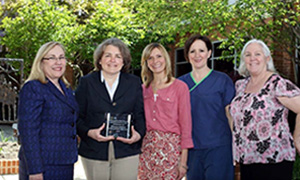 2014 Recipient, Suburban Hospital Johns Hopkins Medicine From L to R: Maria Shirey ABNS President, PHD, MBA, RN, NEA‐BC, FACHE, FAAN; Barbara Jacobs, MSN, RN‐BC, CCRN; Leighann Sidone, MSN, RN, OCN, CENP; Virginia Schad BSN, RN, CEN; Cathy Clark BS, RN‐BC
Does your employer promote and recognize specialty nursing certification? Are activities conducted that advance the cause of specialty nursing certification? If you answered "yes" to either of these questions, please submit a nomination for the ABNS Award for Nursing Certification Advocacy. Read about the award criteria.
Since the inception of this award, ABNS has had the privilege to recognize 12 outstanding departments or organizations that advocate for specialty nursing certification:
| | |
| --- | --- |
| 2003 | Genesis Medical Center, Davenport, IA |
| 2004 | Avera McKennan Hospital and University Health Center, Sioux Falls, ND |
| 2005 | Saint Peter's University Hospital, New Brunswick, NJ |
| 2006 | 4th Floor, Surgical, Scripps Memorial Hospital, La Jolla, CA |
| 2007 | Robert Packer Hospital, Sayre, PA |
| 2008 | Orlando Regional Healthcare, Orlando, FL |
| 2009 | St. Mary's Medical Center, Evansville, IL |
| 2010 | Duke University Health System, Durham, NC |
| 2011 | East Jefferson General Hospital Critical Care Division, Metaire, LA |
| 2012 | Morristown Medical Center, Morristown, NJ |
| 2013 | The Methodist Hospital, Houston, TX |
| 2014 | Suburban Hospital Johns Hopkins Medicine, Baltimore, MD |
This is an opportunity to be recognized for the many ways in which your employer supports and recognizes your certified nurses. The application is due by January 15, 2015 and is available on the ABNS website.
The Award recipient will be announced on March 19 — National Certified Nurses Day! A member of the ABNS Board of Directors personally presents the Award, a beautifully engraved statuary, typically during Nurses Week.
Questions? For more information, call ABNS at (330) 995‐9172 or email abns@nursingcertification.org.