A Higher Level of Practice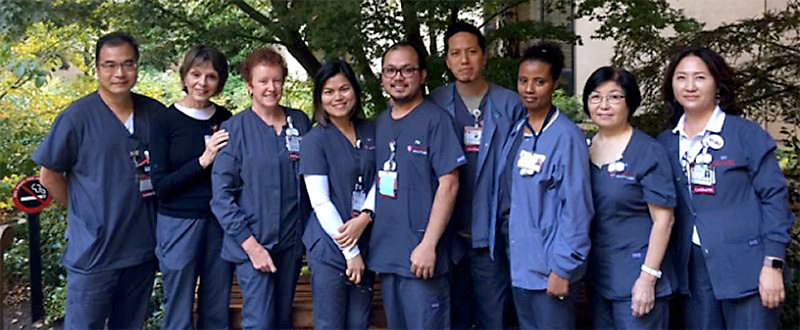 Introduction
Recognizing that everyone benefits from certification – nurses, patients, and facilities - NNCC launched the Advocacy Award in 2014. The goal was to publicly recognize organizations that advocate for nephrology nursing certification as a key way of providing top-quality patient care. Since its inception, five units across the country have received the award.
Stanford Dialysis Unit – An Interview with Marlys Ludlow, RN, MSN, CNN
Representing the 2018 NNCC Advocacy Award-winning Stanford Dialysis Unit, Marlys Ludlow, RN, MSN, CNN, Patient Care Manager, Dialysis, describes her motivation for applying for the award, and the positive results of championing certification.
Why did you apply for the NNCC Advocacy Award?
The NNCC Advocacy Award was a great way to recognize the dialysis staff for their demonstrated professionalism through certification. The Stanford Health Care administration is very supportive of certification, and subsequently we have numerous in-house means of doing so. That said, having national recognition was an additional – and very motivating experience - for all our staff members.  
Please name some things you feel particularly distinguish your unit and staff.
The all RN/BSN dialysis staff is a very cohesive, motivated, and professional team. They are well recognized by other departments for their demonstrated ability to care for a very diverse population which includes pediatric and adult patients in a high acuity hospital.
Our certified nurses are also very involved with the house-wide Shared Leadership Program and the Dialysis Unit Council. 
Why is certification important to your unit and your facility?
Stanford Health Care is a Magnet facility, and as such, certification is a means of demonstrating proficiency and professionalism within our nephrology nursing specialty. 
How do you motivate your nurses to get certified?
Motivation starts during the interview process, and we are very clear that it's an expectation of their role in the dialysis unit.
Certified managers initially encouraged staff to become certified by implementing review classes based on the Core Curriculum for Nephrology Nursing, which is published by the American Nephrology Nurses Association (ANNA). Stanford Health Care then hosted the certification exam onsite, which enabled staff to have easy access to testing.
At our facility, nurses who become certified are celebrated with a party, provided a CNN name badge, and gift bag with CNN labeling. A certification plaque is maintained in the dialysis unit with all certified nurses' names noted.  In addition, achievement of certification is announced in our Huddle Updatethat is distributed to all staff and displayed on the "Visibility Board" in the dialysis unit.  
Have you seen a difference in staff motivation, performance, outcomes, etc. after achieving a high number of certified nurses?
What we noted in a positive way, was the effect of peer pressure. Nurses wanted to become certified like their peers, and they became highly motivated to do so!
Does your employer value/appreciate nephrology nursing certification? If so, how?
Certification has always been highly regarded and encouraged by Stanford's nursing administration. Certification Day is celebrated throughout the hospital, and the CNO and ACNO distribute gifts and cake. In addition, nurses receive points toward advancing on the clinical ladder if they are certified.
Where do you go from here?
We will continue to foster an environment for new staff that encourages and supports their participation in the certification process.
What would you tell other nurses who were considering nephrology nursing certification?
Go for It!  Certification is a great opportunity to demonstrate excellence in your specialty.
More Information
If you would like to apply for the NNCC Award for Nephrology Nursing Certification Advocacy, there's plenty of time! Recipients receive a plaque, a $500 gift card, and other honors. Visit the NNCC Advocacy Awards page for details and apply before January 1.
---
Reported by Janet D'Alesandro, NNCC Communications and Media Relations Director.