Rochester General Hospital Dialysis Unit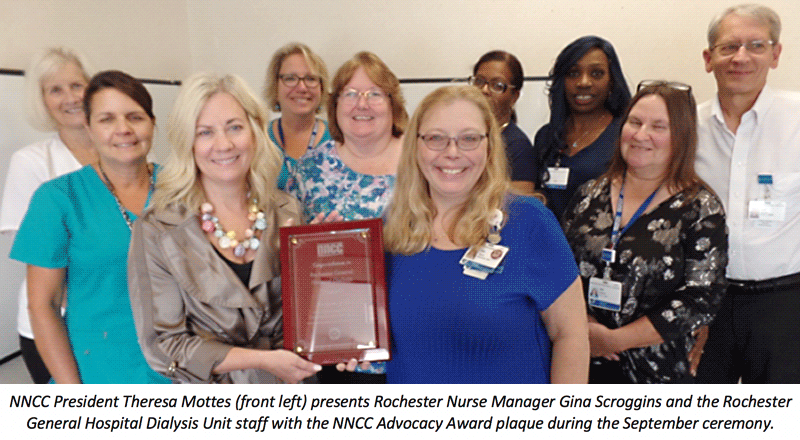 Rochester General Hospital Dialysis in Rochester, NY, doesn't just pay lip service when it comes to nephrology nursing certification. Thanks to an exceptional program that supports staff from start to finish, an impressive 88% of the eligible nurses are certified in nephrology, an accomplishment that helped Rochester win NNCC's 2019 Award for Nephrology Nursing Certification Advocacy.
The unit nurses received their award from NNCC President Theresa Mottes, MSN, RN, CPNP-AC, CDN, on September 9, 2019, during a special ceremony at the facility timed to coincide with Nephrology Nurses Week. Mottes gave the staff members a plaque and a $1,000 prize, praising them for their outstanding performance in advancing nephrology nursing certification and patient care.
"I was truly honored to present the Advocacy Award to Rochester General Hospital Dialysis," Mottes said. "The team is committed to delivering top-quality care and to improving the lives of their patients. Additionally, the leadership is committed to supporting staff through certification and education."
The Advocacy Award was launched by NNCC in 2014 to recognize organizations that advocate for nephrology nursing certification as a crucial facet of achieving top-quality patient care. To be eligible, an organization must provide patient care to individuals with kidney disease and employ certified nurses and technicians. Such facilities include free-standing outpatient dialysis units, hospitals, and ambulatory care clinics, or units or divisions of larger organizations. Recipients are selected based on their performance in specific criteria.
Supporting Her Staff: An Interview with Nurse Manager Gina Scroggins
To further honor the unit, we spoke with Rochester General Hospital Nurse Manager Gina Scroggins, MSN, RN, NE-BC, CDN, CNN, who submitted the unit's application. Below, Scroggins describes her motivation in applying for the award and the positive results of championing certification.
Why did you apply for the NNCC Advocacy Award?
Dialysis is a life-sustaining treatment for a life-altering disease. I wanted to demonstrate to my staff how much difference their certifications do make and I wanted them to know how proud I am of them. 
We have a number of staff members who have worked in our department for many years and many who have held dialysis or nephrology certifications for years. Their commitment to their patients makes a difference. Other areas of the hospital or medical community have prestigious awards given to them, dialysis doesn't have that option. The NNCC Advocacy Award recognizes the work our staff members do on behalf of their patients, their level of professional dedication, and their commitment to patient care. 
Please name some of the aspects you feel particularly distinguish your unit and staff.
We have a large dialysis department with approximately 500 patients. This allows the staff members to have opportunities for professional growth and the ability to learn or see things that might not be available in a smaller dialysis department.
In addition, Rochester Regional Health has an LPN school. The dialysis department works with the School of Nursing to ensure the LPN students are able to spend time in our department during their training. We are fortunate to be able to interview and hire potential candidates for open positions when they graduate. We currently employ many of the school's past graduates in dialysis.  
Why is certification important to your unit and your facility?
Rochester General Dialysis is a part of Rochester Regional Health. Rochester General Hospital is a Magnet-designated facility.
For RNs, certification is one way to demonstrate proficiency in their chosen area of expertise. It helps nurses advance up the clinical ladder and validates their higher level of clinical and technical skills, both professionally and personally. This enables nurses to provide superior patient care.
How do you motivate your nurses to get certified?
I personally sit with each RN and review his or her personal and professional goals. I believe it's my responsibility to help our RNS grow and develop into the best nurses they can be. I discuss with them where they are professionally in preparation for certification exams and clinical ladder applications. I believe the two items go together as nurses advance in their careers.
When the staff are ready to prepare for the certification exam, we provide them with the resources they need (we have a library of the necessary materials). The organization offers classes which myself and another staff member teach. 
Have you seen a difference in staff motivation, performance, outcomes, etc. after achieving a high number of certified nurses?
When staff members become certified, I present them with badge holders that identify their new credentials. In fact, staff members seek me out for their badge holder because they're excited and proud. They also receive a new name tag that displays their new credentials.
As far as outcomes are concerned, we have seen Improvements in such areas as falls prevention and medication errors. Staff members are more aware of transplant options and are able to discuss those with patients. We now have direct care staff involved in multiple quality improvement projects and programs. Those are a few examples.
Does your employer value/appreciate nephrology nursing certification? If so, how?
Rochester Regional provides all certified nurses with an add-on to their hourly pay, and staff members are also reimbursed for exam and recertification costs. The program pays for staff members to attend the local American Nephrology Nurses Association (ANNA) Fall conference and assists with other expenses for dialysis-related conferences. We also announce their names when they become certified via email communications to dialysis staff and leadership.  
Where do you go from here?
Our goal is to continue to increase certification numbers among the staff and encourage new staff members to obtain certification when they're eligible. We'll also continue to offer certification classes to interested staff and provide them with study materials.
What would you tell other nurses who were considering nephrology nursing certification?
Nephrology nursing certification increases understanding and critical thinking skills as they relate to nephrology care. It also provides a sense of personal satisfaction and validation of skills, knowledge, and the treatments needed to provide excellent care to the nephrology population.
More Information
If you would like to apply for the NNCC Award for Nephrology Nursing Certification Advocacy, there's plenty of time! Recipients receive a plaque, a $1,000 prize, and other honors. Visit the NNCC Advocacy Awards page to read about previous recipients and to download the application. *Apply by January 1, 2020.
---
Reported by Janet D'Alesandro, NNCC Communications and Media Relations Director.