Congratulations to Arkansas Children's Hospital Pediatric Dialysis Department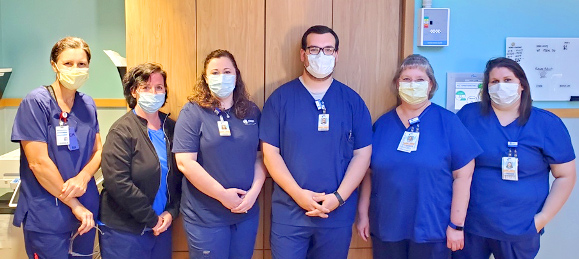 Introduction
The nurses at Arkansas Children's Hospital – Pediatric Dialysis Department, Little Rock, AR, are both highly motivated and appreciated, factors that helped them win NNCC's 2020 Award for Nephrology Nursing Certification Advocacy.
According to NNCC President Theresa Mottes, MSN RN, CPNP-AC, CDN, the awards committee gave the Pediatric Dialysis Department high marks for their cohesiveness, collaboration, and team-based approach.
"We were very impressed by the nurses' high level of commitment and for the extensive support Arkansas Children's provides nursing staff for certification and continuing education," Mottes said.
The awards committee praised the department for their plan to have 100% nephrology nurse certification by the end of 2020. According to the department's award application, 75% of the dialysis team is nationally certified through NNCC, and the remaining 25% are in the process of getting certified.
NNCC gives the award to one unit each year for outstanding performance in advancing nephrology nursing certification and patient care.
Arrangements for the Pediatric Dialysis Department staff to receive their award are pending, based on COVID-19 safety concerns. The award is normally presented during a ceremony that coincides with Nephrology Nurses Week each September. At that time, the department will receive an engraved plaque and a check for $1,000.
Setting a High Bar: An Interview with Cassie Medlock
To further honor the dedicated staff members, we spoke with Arkansas Children's Dialysis Administrator Cassie Medlock, BSN, RN, CNN, who submitted the department's application.
Why did you submit an application for your department for the NNCC Advocacy Award?
Immediately upon starting my role as dialysis administrator at Arkansas Children's, the dialysis team's commitment to excellence was very evident! This team has an unwavering focus on performing the highest quality of safe and effective patient care. They do not settle for anything less than the best!  
Name some things you feel particularly distinguish your department and staff.
The dialysis department at Arkansas Children's is the only pediatric dialysis provider in the state. Our patients come from all over Arkansas to receive exceptional dialysis care from our team of hemodialysis and peritoneal dialysis nurses.
The pediatric dialysis department is also part of the nationally ranked nephrology department at Arkansas Children's, as determined by U.S. News and World Report. 
Why is certification important to the nurses in your department and your facility?
As a Magnet® designated hospital, nursing certification is important to our unit because it is integral to professional excellence and aligns with our core values of "Safety, Teamwork, Compassion, and Excellence."
How do you motivate your nurses to get certified?
Motivating team members to attempt nursing certification is actually not very difficult. Arkansas Children's has a great clinical ladder program that allows the certified nurse to move up to the next level. Arkansas Children's also provides a certification achievement bonus, so the nurses are compensated for their achievement.  
Have you seen a difference in staff motivation, performance, outcomes, etc. after achieving a high number of certified nurses?
Improved performance metrics, especially in the area of health care associated infections, has been a major highlight. The certified team of nurses actively participate in all quality assurance processes, and consistently work toward improving all aspects of patient care.
Does your employer value/appreciate nephrology nursing certification? If so, how?
As a Magnet® hospital, Arkansas Children's fosters professional development and empowers nurses to advance their education and skills in order to deliver expert, specialized care. Nurses are offered reimbursement for the certification exam, study materials, and time spent preparing for the exam, as well as a certification achievement bonus.
Where do you go from here?
Nursing certification is now an expectation for new team members who want to choose a career in the pediatric dialysis department at Arkansas Children's.
What would you tell other nurses who were considering nephrology nursing certification?
Nephrology nursing certification helps nurses increase their understanding and critical thinking skills as it applies to nephrology-related care. Certified nurses have a high degree of personal satisfaction, as well as a validation of their skills and knowledge.
I highly encourage nephrology nursing certification to all providers! 
More Information
If you would like to apply for the NNCC Award for Nephrology Nursing Certification Advocacy, there's plenty of time! Visit the NNCC Advocacy Awards page for details and apply before January 1.
---
Reported by Janet D'Alesandro, NNCC Communications and Media Relations Director.