Demonstrating the commitment to patient care of NNCC certificants, our organization received a record number of Quality Improvement Award applications this year. As a result, NNCC has decided to select the top four. Each winner will receive $1,000 and an engraved plaque.
The award recognizes individuals or organizations participating in a QI project that promotes optimal patient outcomes in nephrology. Applications are reviewed by the NNCC Board of Commissioners and ranked based on innovative concepts, outcomes, and quality assurance and performance improvement principles.
The winners, who each are shown in more detail below, are Forest Rawls, Emory Dialysis Clinics; Gina Scroggins, Sandra Atkins, Debra Ladue, Rochester General Hospital Dialysis; Ronald Hale, DaVita Louisville Dialysis; and Cintia Perez, Deborah Jones, VA Loma Linda Healthcare System
Winner: Forest Rawls
Emory Dialysis Clinic
Project Title: Effectiveness of ultrasound Guided Cannulation of AVF in Infiltration Rates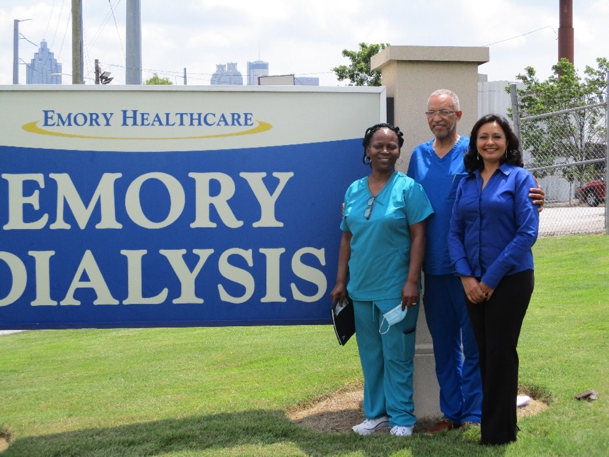 Forest Rawls with vascular access team members: Rodella Broxton-Key (left) and Dr. Vandanna Niyyar
Forest Rawls and his vascular access team instituted a QI project in their dialysis units to decrease the number of infiltrations in patients with AVF. The results further confirmed that, though not infallible, ultrasound used in adjunct with physical examination improved the ability to predict successful cannulation in a mature AVF. A manuscript on this project was recently submitted to the Journal of Vascular Access and in honor of their efforts and dedication, Forest and Rodella are co-authors on this manuscript: "Effectiveness of ultrasound-guided cannulation of AVF on infiltration rates: A Single Center Quality Improvement Study."
Winners: Gina Scroggins, Sandra Atkins, Debra Ladue
Rochester General Hospital Dialysis
Project Title: Improving Hepatitis B Vaccine Response Among ESRD – on Dialysis Patients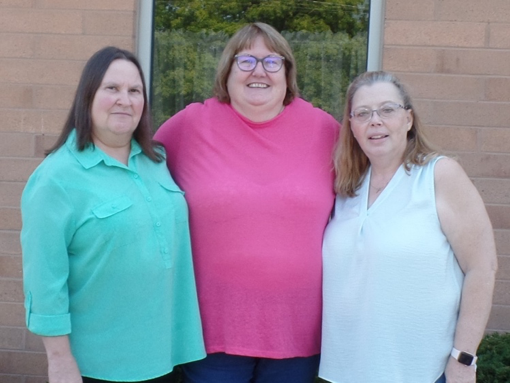 From left, Debra Ladue, Sandra Atkins, Gina Scroggins
The aim of the project was to evaluate whether a group of hypo-responsive ESRD patients would respond (develop Hepatitis B antibodies) after receiving Heplisav-B vaccine. Because of this project, they had an increase in the hepatitis B titers in 14 out of 23 patients (61% response) who received the Heplisav-B. The hepatitis B antibody levels ranged from 161 > 1000 in the patients. These patients now have a substantial level of protection from Hepatitis B infection compared to their previous hypo-response.
Winner: Ronald Hale
DaVita Louisville Dialysis
Project Title: Reducing Hyperphosphatemia In Hemodialysis Patients Using A Patient Centered Approach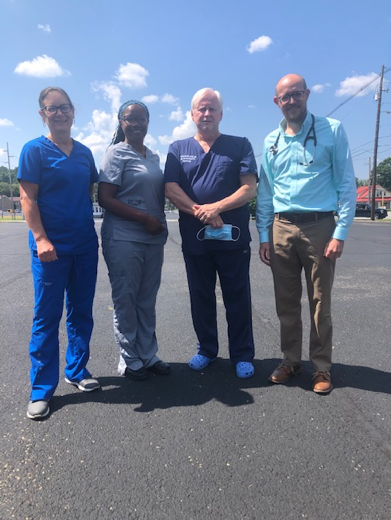 Ron Hale (center) and team, from left: Teri Hagan, Keiona Edwards, and Dr. David Fendley
The aim of this quality improvement project was to reduced hyperphosphatemia in hemodialysis patients by 30% using a patient-centered approach in 8 weeks.
The conclusion of this QI project showed a reduction in hyperphosphatemia among the patients by 38% (n = 21). The risk assessment tool was complete & exceeded goal at 100% (n=21) of the patients, phosphorus pyramid exceeded goal at 90% (n=21) & food diary goal results were exceeded at 70% (n=21).
The team engagement and balancing measure of avoiding team member burnout was achieved with 100% goal met.
Winners: Cintia Perez and Deborah Jones
VA Loma Linda Healthcare Systems
Project Title: Promoting Appropriate Acute Care Dialysis Program During COVID Pandemic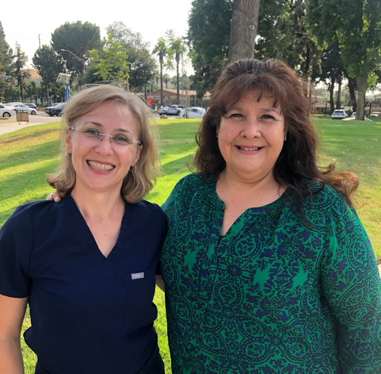 Cintia Perez (left) and Deborah Jones
The aim of this quality improvement project was to segregate dialysis outpatients/inpatients and staff to decrease exposure to COVID and retain highly qualified dialysis RNs.
Through this quality improvement project, Cintia and Deborah achieved a 0% confirmed cross contamination COVID cases for outpatients, inpatients and staff and a 100% retention of dialysis personnel.